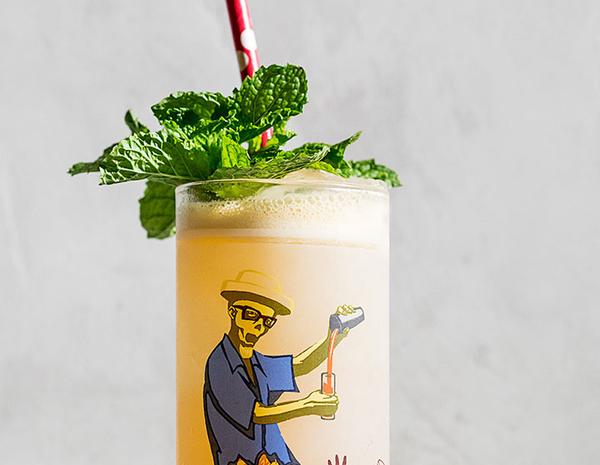 1½ oz blended aged Jamaican rum
1½ oz column still aged Puerto Rican rum
1 oz 151-proof Demerara rum
¾ oz lime juice
½ oz Don's mix
½ oz falernum
1 tsp grenadine syrup
6 drops Pernod
1 dash Angostura bitters
instructions :
Put everything in (3 options):
a shaker : with 6 oz (¾ cup) of crushed ice. Shake for no more than 10 seconds or until frost.
a blender : with 6 oz (¾ cup) of crushed ice. Blend at high speed for 2-3 seconds.
a drink mixer : with 12 oz (1½ cups) of crushed ice and 4-6 "agitator" cubes (small ice cubes). Flash blend for 3-4 seconds.
Pour unstrained into a zombie glass or collins glass. If necessary, add more crushed ice to fill.
Garnish with a mint sprig.
Also known as "Zombie", "Original Zombie" or "1934 Zombie".
Don's mix
2 parts white grapefruit juice
1 part cinnamon syrup (1:1)
Recommended rum combo :
Appleton 8 or 12 or El Dorado 8, Don Q Añejo and Plantation O.F.T.D.
source :
Beachbum Berry's Sippin' Safari, created by Don the Beachcomber's (Hollywood, 1934)
beachbumberry.com