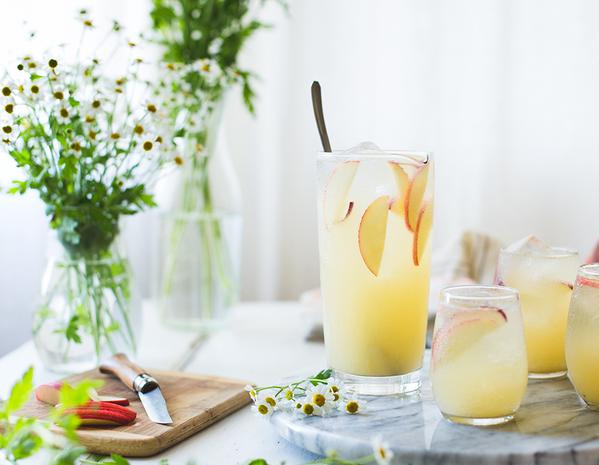 2 tbsp honey
35 g ginger
4 yellow peach
6½ cl lemon juice
75 cl prosecco
20 cl St-Germain
40 cl soda water
instructions :
In a large measuring pitcher, muddle the honey and chopped ginger until the juices run out of the ginger, approximately 1 minute.
Muddle in 2 chopped nectarines and lemon juice until well crushed, or pulse the mixture in a food processor or with an immersion blender to speed up this process.
Stir in half of the Prosecco.
Strain the mixture through a fine mesh sieve and into a large punch bowl or pitcher, pressing on the fruit pulp to extract all the good stuff.
Discard the pulp and add the rest of the Prosecco and 2 sliced nectarines to the sangría.
Taste, adding more lemon juice if you feel the drink it needs it. Add ice and sparkling water to the pitcher, and serve within the hour while the drink is bubbly, ladling it into cups with bits of the fruit.
Makes 6-8 servings
source :
imbibemagazine.com