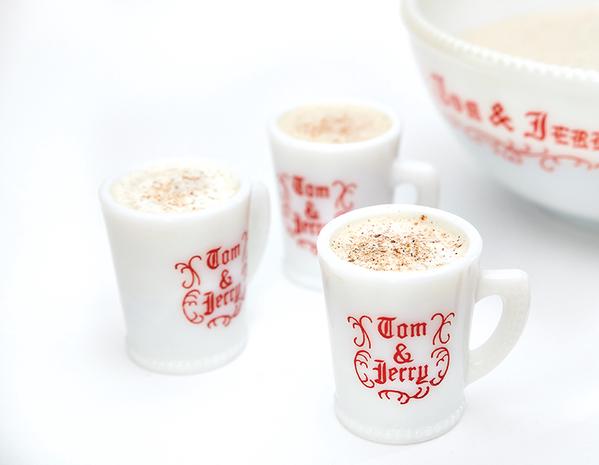 1 oz cognac
1 oz blended aged Jamaican rum
1½ oz Tom & Jerry Batter
3-4 oz hot milk, to taste
instructions :
Warm the mug with boiling water. Discard water and combine the Cognac, rum and batter in the mug
Top with hot milk, then stir briefly and garnish with grated nutmeg.
Préparation Tom & Jerry batter :
12 eggs
1 oz pot still aged Jamaican rum
1½ tsp. ground cloves
1½ tsp. ground allspice
1 tsp. ground cinnamon
¼ tsp. ground anise seeds
2 lbs. cane sugar
Separate the eggs, placing the whites in a large bowl and the yolks in a medium bowl. Use a whisk to beat the egg yolks until combined. Drizzle in the rum, whisking constantly to incorporate. Using a whisk, beat the egg whites by hand until they form stiff peaks. Slowly fold the yolk mixture into the whites using a rubber spatula, adding about a third at a time. Begin adding the spices as you continue folding, until the entire mixture is well-blended. Once combined, slowly add the sugar to thicken the mixture, constantly stirring with the spatula until a thick, batter-like consistency is reached. Transfer the batter to a serving bowl and use immediately to make Tom & Jerrys, ladling out the mixture to prepare the drinks individually.
source :
imbibemagazine.com