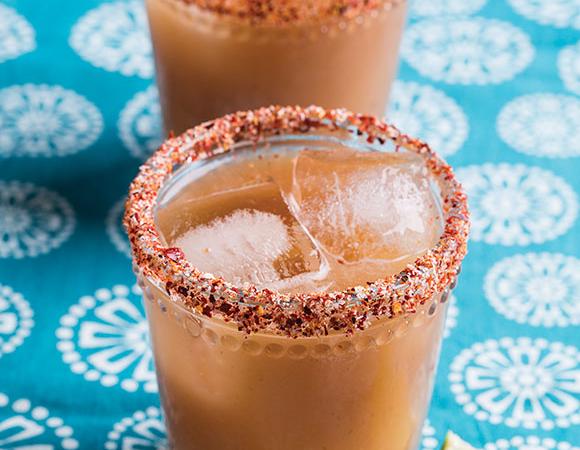 2 oz mezcal
¾ oz tamarind purée
¾ oz canela-agave syrup
¼ oz lime juice
1 dash Angostura bitters
instructions :
Moisten the rim of a rocks glass with an orange wedge and dip the rim in chile de árbol-guajillo-flor de sal.
Fill the glass with ice and set aside
Shake the ingredients with ice and strain into the prepared glass.
Chile de árbol-guajillo-flor de sal
½ oz dried chile de árbol
1 oz dried guajillo chile (stems removed)
Kosher salt
Lightly toast the dried chilis with the seeds intact. Grind árbol in spice grinder until fully ground, and grind guajillo in larger flakes. Measure equal parts kosher salt to the chili mix. Mix well and store in a sealed container.
Canela-Agave Syrup
4 canela sticks (Mexican cinnamon)
½ cup agave nectar
½ cup water
Add the water and canela to a small saucepan and bring to a boil. Add the agave nectar and stir to combine, then remove from the heat. Let cool, and chill overnight to infuse; strain the mixture, then store in the refrigerator for up to 2 weeks.
source :
imbibemagazine.com