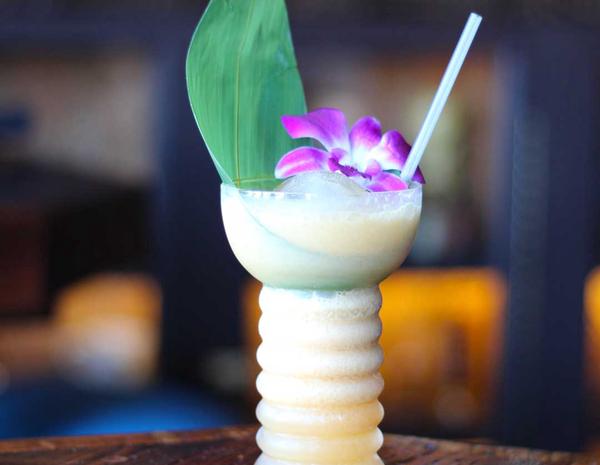 1½ oz blended lightly aged Jamaican rum
¾ oz blended aged demerara rum
¾ oz Don's Gardenia mix
¾ oz orange juice
¾ oz lime juice
½ oz passion fruit purée
1 tsp falernum
instructions :
Put everything into a blender with 4 oz (½ cup) of crushed ice and blend at high speed for 20 seconds.
Double strain into a Pearl Diver glass filled with crushed ice, pressing on solids to squeeze out all liquid into glass.
Add more crushed ice to fill, an ice ball, a straw, and garnish with an orchid and plaintain leaf.
Don's Gardenia mix :
1 oz softened unsalted butter (or browned butter)
1 oz honey
1 tsp cinnamon-infused sugar syrup
½ tsp vanilla syrup
½ tsp pimento liqueur
1 pinch of salt
Weigh 60 g solid butter for 1 fl. oz melted.
Keep it at room temperature, not in the fridge !
source :
Beachbum Berry's Latitude 29 riff of the original Pearl Diver
cocktailvirgin.blogspot.com