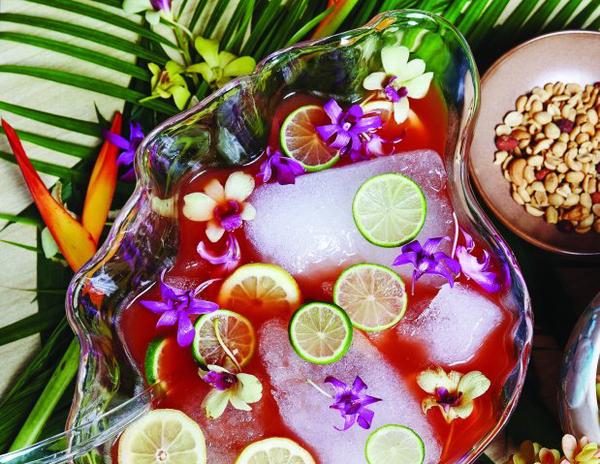 2 oz pot still unaged rum
1 oz lemon juice
¾ oz passion fruit puree
½ oz hibiscus liqueur
¼ oz cinnamon syrup (1:1)
8 drops Bittermans 'Elemakule Tiki bitters
instructions :
Put everything in (3 options):
a shaker : with 8 oz (1 cup) of crushed ice. Shake for no more than 10 seconds or until frost.
a blender : with 4 oz (½ cup) of crushed ice. Blend at high speed for 2-3 seconds.
a drink mixer : with 12 oz (1½ cups) of crushed ice and 4-6 "agitator" cubes (small ice cubes). Flash blend for 3-4 seconds.
Pour unstrained into a double old-fashioned glass.
Punch
Multiply the ingredient quantities by the number of servings.
Combine all the ingredients and whisk together. Chill for 1 to 2 hours prior to serving.
Take out from from fridge and pour in a punch bowl with a large block of ice.
Wait for the punch to dilute (about tens of minutes) before serving.
source :
Smuggler's Cove, created by Martin Cate
smugglerscovesf.com