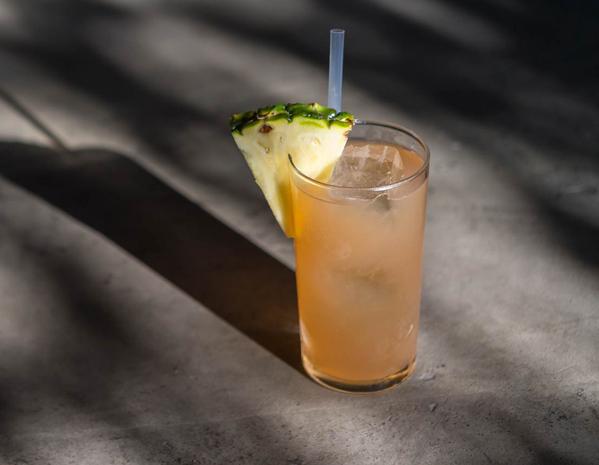 2 oz dry gin
1 oz Cherry Heering
1 tsp Bénédictine
¾ oz lemon juice
2 dash Angostura bitters
1 top pineapple-ginger soda
instructions :
Combine all ingredients, except the soda, in a mixing tin and shake with ice.
Strain into a Collins glass over ice.
Top with soda.
Garnish with a pineapple wedge.
Pineapple Ginger Soda:
500g peeled, chopped pineapple
50g peeled, chopped ginger
500g sugar
500ml water
½ tsp citric acid powder
1 tsp salt
Roast pineapple and ginger at 200 degrees celcius for 1 hour. In a large saucepan, combine all ingredients and bring to a boil. Reduce to a simmer and let steep for 20 minutes. Strain out the solids and add 1 liter of water before carbonating in a Soda Stream or iSi.
source :
punchdrink.com