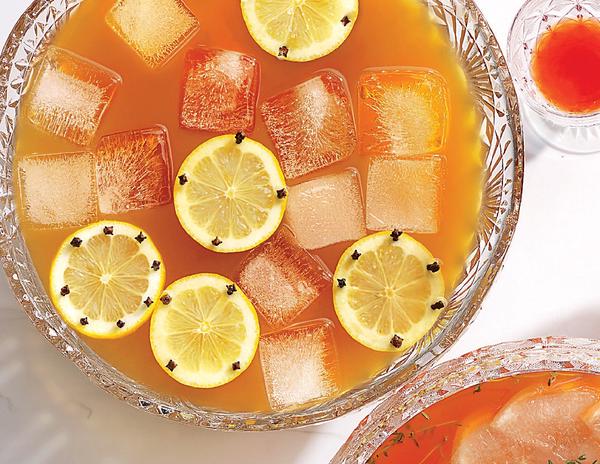 70 cl blended lightly aged Jamaican rum
70 cl cognac
325 ml lemon juice
530 ml black tea syrup
2.6 L cold water
1 batch oleo saccharum
instructions :
For 5.1 L :
Combine all the ingredients in a punch bowl and chill.
Add an ice ring mold when ready to serve.
Oleo saccharum
Mix 455g superfine sugar and the zest of 12 lemons. Seal it in a vacuum seal bag. And let the bag rest at room temperature for at least 4 hours.
Alternatively, gently muddle the lemon peel with the sugar and seal it in a jar for at least 1 hour.
Black tea syrup
Prepare a pot of black tea with 350 ml of water. While the liquid is still hot, add : 5 cinnamon sticks, 3 quartered orange, 20 cloves, 450g white sugar and stir until the sugar dissolves.
Allow mixture to steep until the liquid comes to room temperature. Strain out the spices, bottle and refrigerate for up to 2 weeks.