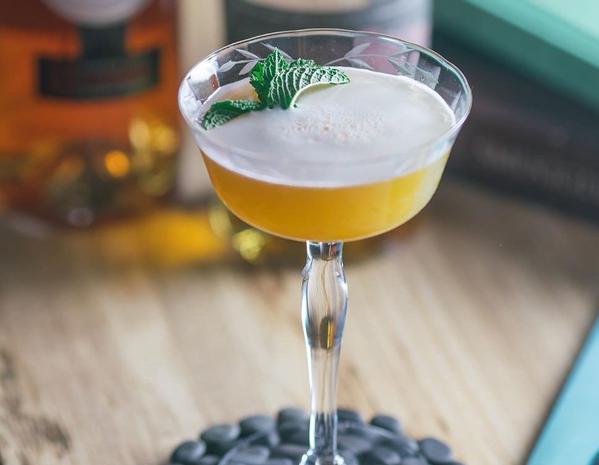 5 chunks pineapple (1-inch square)
8 mint leaves
1 oz lime juice
¼ oz demerara syrup (2:1)
½ oz peach liqueur
1½ oz blended lightly aged rum
instructions :
Muddle the pineapple chunks in a drink mixer tin.
Add the remaining ingredients in (3 options):
a shaker : with 4 oz (½ cup) of crushed ice. Shake for no more than 10 seconds or until frost.
a blender : with 4 oz (½ cup) of crushed ice. Blend at high speed for 2-3 seconds.
a drink mixer : with 12 oz (1½ cups) of crushed ice and 4-6 "agitator" cubes (small ice cubes). Flash blend for 10 seconds.
Double-strain into a chilled coupe glass. If necessary, add more crushed ice to fill.
Float a large mint leaf on the surface of the drink or rest a small cluster of mint sprigs against the side of the glass to garnish.
source :
Smuggler's Cove, created by Trader Vic, inspired by Don the Beachcomber's Missionary's Downfall.
smugglerscovesf.com